Wolf Carbon Solutions' proposal to build a 280-mile carbon dioxide sequestration pipeline between Cedar Rapids and Decatur, Illinois received a decidedly unwelcome reception from a majority of public speakers Tuesday, Aug. 30 at an informational meeting hosted by the Iowa Utilities Board at the Veterans Memorial Building in downtown Cedar Rapids.
The pipeline, referred to as the Mt. Simon Hub by Wolf Carbon solutions officials, would transport carbon dioxide through a pressurized 16-inch pipeline, transporting CO2 from ADM plants in Cedar Rapids and Clinton to an ADM sequestration facility near Decatur, Illinois, where the gas would be pumped underground at the Mt. Simon Sandstone saline reservoir for permanent storage.
The pipeline, first proposed in January, would run through the southern portion of Linn County and a small portion of northern Johnson County southeastward through Cedar, Clinton and Scott counties in Iowa, then further eastward to the sequestration site. About 90 miles of the pipeline would traverse Iowa properties, including about 20 miles in Linn County.
Under guidelines from the Iowa Utilities Board, such a pipeline project must include public question-and-answer meetings in each of the counties along the proposed route.
Similar public meetings have been held in Johnson, Cedar, Clinton and Scott counties, and a virtual meeting is set for Monday, Sept. 19 at 6 p.m., with participation through the IUB Webex system.
Most comments focus on pipeline safety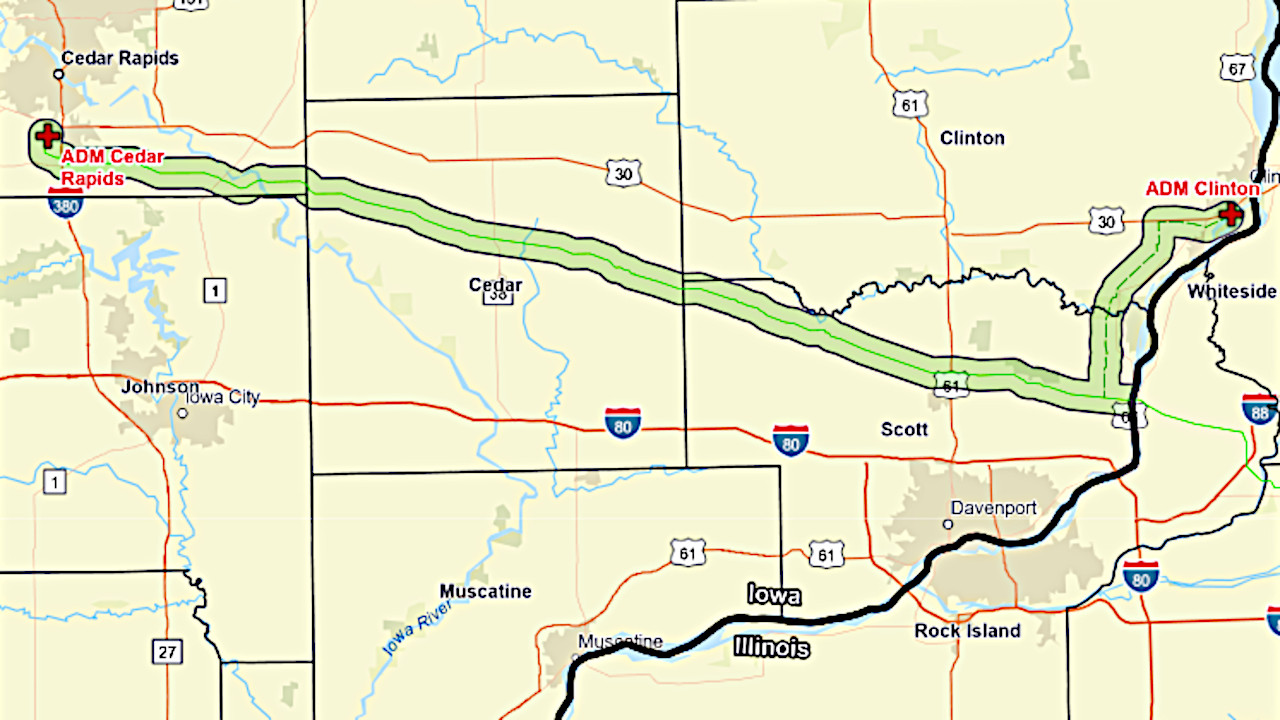 Of the estimated 100 in attendance at the Linn County meeting, about 20 commented and asked questions about the proposal from Denver, Colorado-based Wolf Carbon Solutions. Nearly all expressed opposition to the plan.
One notable exception was Doug Neumann, executive director of the Cedar Rapids Metro Economic Alliance, who said his group's policy board has voted to support the project. Mr. Neumann said that decision was based on ADM's position as an important regional employer that needs a carbon dioxide sequestration solution.
"To support the continued agribusiness economy of Iowa, we need companies like ADM to be successful," he said.
He also said the Decatur sequestration facility has been in operation for a number of years and is using "proven technology."
Wolf Carbon officials say that they would prefer to acquire voluntary agreements with participating landowners along the pipeline route, rather than resorting to potential eminent domain measures.
"The company's strong desire and commitment to not using eminent domain is a really important factor," Mr. Neumann added. "I know there's doubts about whether that can be done, (but) our organization was impressed by and supports your efforts to do that, if at all possible."
ADM says the pipeline would have the capacity to transport 12 million metric tons of carbon dioxide per year from its Cedar Rapids and Clinton plants.
Wolf Carbon officials said the pipeline would have significant spare capacity to serve industrial customers looking to decarbonize across the Midwest and Ohio River Valley. They also say the project would bring a $1.1 billion economic impact to Iowa, including a $208 million investment in Linn County, and offer more than 400 construction jobs with $50 million in overall wages and salaries during construction.
Several speakers at the Linn County meeting said they were concerned about the safety of the proposed pipeline, with many pointing to a February 2020 explosion of the Denbury Gulf Coast carbon dioxide pipeline near Satartia, Mississippi that led to the hospitalization of nearly 50 local residents and the evacuation of 300 others.
Jessica Wiskus of rural Lisbon, a Democrat who's basing her campaign for Iowa Senate District 42 largely on her opposition to carbon capture pipelines, said she's concerned about the project on three fronts: environmental, employment and safety.
She questioned the effectiveness of carbon capture and sequestration, or CCS, in the overall reduction of CO2 emissions, and said her research shows that the potential risks of transporting carbon dioxide through pipelines haven't been adequately addressed, noting that current Iowa regulations don't specify minimum setbacks from the pipeline after it's installed.
"In Iowa, you're going to ask us to live, to work, to raise our families and to go to school within tens of feet of these carbon pipelines," she said to Wolf Carbon Solutions representatives present at the meeting. "You know that you do not know how to do this safely. Why are CO2 pipelines being built in Iowa before the necessary safety studies have been completed?"
Wolf Carbon representatives said they have built more than 1,000 miles of carbon dioxide pipeline to date with no safety incidents, including a large project serving manufacturers in Alberta, Canada.
Question about property owners' notification
Another question surfaced at the meeting regarding adequate notification of landowners along the proposed route. Several attendees claimed they received no official notification from Wolf regarding the pipeline project, and in response, Wolf officials said they decided not to notify more than 5,200 property owners along the two-mile-wide route corridor because the company determined their properties would not be directly impacted by the project.
Jeff Wolf, an attorney with the Iowa Office of Consumer Advocate, said under state regulations, Wolf cannot enter into negotiation or eminent domain measures with any property owner unless that property owner has received certified notification of the project's plans to utilize their property.
IUB chair Geri Huser said the board felt the notification measures taken by Wolf were adequate. She also stressed that public comments at the question-and-answer sessions across Eastern Iowa are not part of the project's official record, noting that those wishing to enter their comments into the record should file them in writing in the official IUB docket for the project – HLP-2022-0002.
She also noted that Wolf Carbon has not yet officially filed an application for the project, and cannot do so until at least 30 days after the final question-and-answer session has been held.
"This is the first step in a very long process," she said.
The project comprises the third CO2 pipeline proposal in Iowa, joining proposals by Navigator, which wants to build a 1,300-mile pipeline that would run through portions of Iowa, Nebraska and South Dakota, and Summit Carbon Solutions, which has proposed a 2,000-mile pipeline that would span counties in Iowa, Nebraska, Minnesota, South Dakota and North Dakota.
The Navigator project was originally slated to run through several Eastern Iowa counties, but was re-routed after ADM chose to collaborate with Wolf on a carbon pipeline project.
ADM says its carbon capture and sequestration capabilities in Decatur have allowed it to safely and permanently store underground more than 3.5 million metric tons of CO2, paving the way for increased decarbonization of the company's operations.
The projects are touted as an environmentally-friendly solution to deal with carbon dioxide emissions from large-scale industrial facilities, but critics question the environmental claims.
Dozens of objections to the plan have already been filed in the project's official IUB docket. One filing includes objections from several Sierra Club members, requesting that an environmental impact study be conducted to "understand the cumulative effects the proposed carbon dioxide pipeline projects have on Iowa's environment" and expressing support for the Winnebago Tribe of Nebraska's request for a similar study.
If the project receives a permit, Wolf officials say they'd hope to have the pipeline in service by 2025.